At-Risk Afterschool Meals Program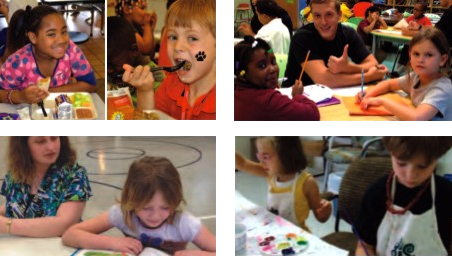 The At-Risk Afterschool Meals Program offers a meal or snack to children in low-income areas, a safe place to go after school, time to spend with their friends in physical, educational, and social activities, and provides a much needed service to local communities.
WHO ADMINISTERS THE PROGRAM?
The U.S. Department of Agriculture's (USDA) Food and Nutrition Service (FNS) administers CACFP at the national level. Within Alabama, the program is administered by the State Department of Education. Locally, public or private non-profit or for-profit organizations that want to "sponsor" the program apply and are approved by the state agency to operate the program. These sponsoring organizations sign an agreement with the state of Alabama and are responsible for overseeing the program at the sites they sponsor. Sponsors receive the federal reimbursement through the Alabama State Department of Education to cover the administrative and operating costs of preparing and serving meals to eligible children at their program sites. However, centers offering an afterschool program are not required to work with a sponsor to participate in CACFP. They may apply directly to the Alabama State Department of Education.
WHAT ARE THE ELIGIBILITY REQUIREMENTS?
Organizations may participate in the at-risk afterschool meals component of CACFP as an independent afterschool program or through a sponsor.

Program eligibility:
To be eligible in the at-risk afterschool meals component of CACFP either independently or through a sponsor, an afterschool program must:
Be organized primarily to provide care for children after school or on weekends, holidays, or school vacations during the regular school year ONLY
Provide organized regularly scheduled activities in a structured and supervised environment
Include education or enrichment activities
Be located in an eligible area
Organization Eligibility:
At-risk afterschool programs that meet the requirements above must be operated by an eligible organization to receive reimbursement. Eligible organizations are those that:
Meet state and/or local licensing or health and safety standards
Are operated by public agencies, tax-exempt nonprofit organizations, or for-profit organizations that meet the requirements or are currently participating in another federal program requiring nonprofit status
Area Eligibility:
A program must be located in an eligible area. The site must be located in the attendance area of a public school where at least 50 percent of the students are eligible for free or reduced price meals under the NSLP. A site's area eligibility determination made under CACFP is valid for 5 years
WHAT IS IN A MEAL?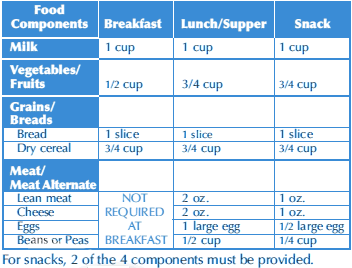 The CACFP meal patterns require at-risk afterschool centers to serve meals that meet the nutritional needs of children, are consistent with the Dietary Guidelines for Americans, and are appetizing.
There are no federal requirements regarding the timing of meal service. However, the service of a meal or snack must occur during the operation of the school's afterschool care program. Snacks or suppers or a combination of both may be served in the at-risk afterschool program. All food components must be served to each child all at the same time. The chart below shows the required components for snacks and meals, with some of the minimum required serving sizes for reimbursable meals.
Bridging gaps and building partnerships! "Providing Comprehensive Services since 1972"